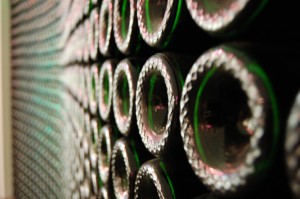 Well, after an exhausting day roaming around the city, we went out to the Napa Valley countryside on a tour. The tour was called Wine Country Tour Shuttle and was excellent. We started from the Ferry Building downtown where we went into our shuttle and began the 90 minute drive to the first winery.
The first winery was called Domaine Chandon in Yountville. This place is mostly known for their sparkling wine (Champagne) although they do bottle some still wines. Here we got a tour of the facility and got to do some tasting as well.
After this one, we had a short drive to St. Helena for the next two wineries, V. Sattui and Flora Springs. We didn't get a tour at these two, instead only had tasting. V. Sattui has a deli and barbecue so we were able to eat lunch there. After lunch and tasting the tour continued on across the street at Flora Springs. This place was geared to be a more "high energy" type winery. So it was dance club like with techno/trance music playing. It was kinda cool, but by this time I was starting to get a sleepy. So Melissa and I just relaxed outside while we waited for the tour to continue on to the next place.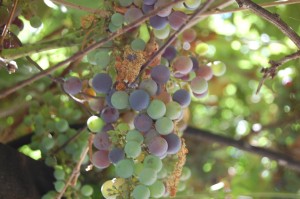 The final place was called Andretti Winery, owned by the former racer Mario Andretti. This place had a smaller and more classy atmosphere to it, which was relaxing for the last winery. We got to taste wine there and wander around a little bit until we had to leave. Then we had a good drive to Vallejo where we boarded a ferry to head back to the city. The ferry ride was about 45 minutes long and was also relaxing.
We ended the day by coming back to the hotel and resting. We went to get some burgers at a place called Pearl's which was a few blocks away from our hotel. It was this cool, little 50's style diner. The burgers were excellent.
You can view all of the photos in my flickr photoset: View Here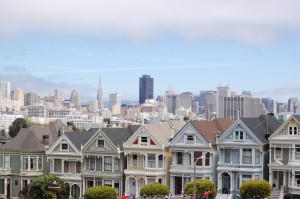 Well, the day finally came and went. Melissa and I spent all day today traveling around town (MUNI Passport is worth it) doing some sightseeing. We already have everything planned out that we wanted to see. So the hardest part of the day was actually just getting up early to start it all.
We flew in Thursday night, so it was quite late by the time we rode the BART to downtown and got to our hotel. Anyway, we woke up and went to see Union Square first since it was only a few blocks away from our hotel. Our next task was to pick up the MUNI 3-day passes that will get us unlimited rides on the cable cars, street cars, and buses. These were certainly worth the money.
So once we had our passes, we went to see Lombard Street (the crooked street). This was pretty neat to see and looked awesome with all of the flowers and trees along it. After walking down this very steep hill, we moved onward towards Coit Tower, which was at the top of yet another hill (there's a pattern here). I thought this was only ok, since it seemed most of the views were blocked by trees. But anyway, we walked down from here towards the Fisherman's Wharf area. We stopped at the large tourist trap known as Pier 39.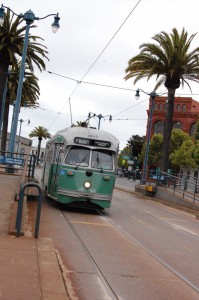 After having lunch at In-N-Out Burger (my first time) we found out that we had just missed one of the tours we wanted to go on, and it would be another 45 minutes until another went out. So we decided to just skip that and continue on with the rest of our agenda. The next thing was to go see the Painted Ladies. The Painted Ladies are a row of brightly painted Victorian style houses next to Alamo Square. Most people will recognize them from the intro of Full House when they are having a picnic in Alamo Square. (Although the close-up shots of their actual house were filmed at 1709 Broderick St.)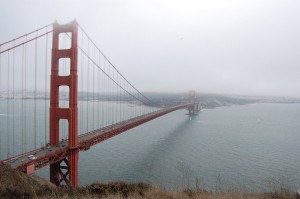 Then, it was time for the main attraction, The Golden Gate Bridge. Of course, being San Francisco, it was somewhat foggy. It still looked amazing though. We took a bus to the south end and found a cab to take us to Battery Spencer. Battery Spencer is an abandoned military post by the north end of the bridge. This is a very common place to take pictures of the bridge. It was worth the cab money to get up there even though it was extremely windy. We took some excellent pictures, and had a nice long walk back across the bridge.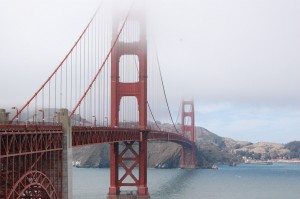 For the most part, that was the end of our day. We had a long bus ride through rush hour to get back to the hotel. Then we went to dinner at nice little Italian restaurant called Fino. The food was excellent even though they seemed to be stretching their wait staff a little thin. We then proceeded to a little comedy club called San Francisco Comedy College. The do a show with some of the students at their comedy school. It was quite entertaining and some of the comedians were pretty good. Overall, an excellent day in San Francisco.
You can view all of the photos in my flickr photoset: View Here

As all of my regular viewers may have noticed (are there any?) the look of my website has once again changed. As usual, I can't seem to just pick one CMS/Blogging software and stick with it. I usually found some little thing about it that annoyed me. Well, I think I finally found the one I like. I first used Geeklog a few years ago, and honestly that was alright. It just seemed outdated, and the customization inside of posts left more to be desired. It also seemed like the community behind it had left a while ago.

After using that for about 2 years, I changed to Joomla. This was a step up from Geeklog in terms of usability. The administration back-end and plug-ins were very easy to use. However, my major gripes with this software was just that it seemed too bare bones. It seemed that you needed a 3rd party plug-in to just about do anything with the site. It didn't even natively support comments. Comments had to be added with plug-in, and even then, the only good ones cost money. So I used this for a little over a year or so, but honestly, it got frustrating after a while and it discouraged me from using my website. And it's not that I have anything against the software, it's very powerful, it's just that I was looking for something easier and more enjoyable to use.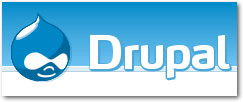 So about a month ago I decided to change my website software once again. Joomla just wasn't doing it for me, and I really didn't want to go back to Geeklog. I had played around with another CMS/Joomla software called Drupal. I really liked this and it seemed like it had a growing community behind it. However, after about a week of playing around with it and messing with templates, I thought I would see what WordPress was like.
Well, I think I finally found the software I was looking for. WordPress seems to be everything I've been looking for and more. It's free, has a large and growing community behind it, and it seems to have the perfect balance between usability and

customization. Writing posts is a cinch whether using the visual editor or an HTML editor. Much like the iphone 'has an app for that,' WordPress seems to 'have a plug-in for that.' Honestly, I kept finding little things I needed to be done that I thought couldn't be done (like redirecting my old article's URLs to new ones in WordPress) and sure enough, there was a plug-in for that. Finding and customizing templates couldn't have been easier. There was no need to search through Google or other sites to find templates, they were all there and hosted at wordpress.org. I am very pleased with wordpress and I think I will be for quite some time.
Well, after some digging around on the Internet Archive, I was able to find the past pages from my website back in the day. Low and behold, my old 'Macbook vs. Dell Latitude' article was there in its original state. So I decided to revive the article on the website for all to enjoy!