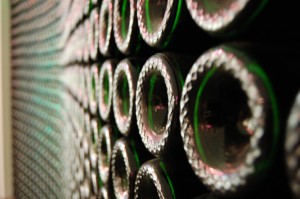 Well, after an exhausting day roaming around the city, we went out to the Napa Valley countryside on a tour. The tour was called Wine Country Tour Shuttle and was excellent. We started from the Ferry Building downtown where we went into our shuttle and began the 90 minute drive to the first winery.
The first winery was called Domaine Chandon in Yountville. This place is mostly known for their sparkling wine (Champagne) although they do bottle some still wines. Here we got a tour of the facility and got to do some tasting as well.
After this one, we had a short drive to St. Helena for the next two wineries, V. Sattui and Flora Springs. We didn't get a tour at these two, instead only had tasting. V. Sattui has a deli and barbecue so we were able to eat lunch there. After lunch and tasting the tour continued on across the street at Flora Springs. This place was geared to be a more "high energy" type winery. So it was dance club like with techno/trance music playing. It was kinda cool, but by this time I was starting to get a sleepy. So Melissa and I just relaxed outside while we waited for the tour to continue on to the next place.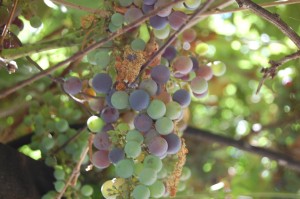 The final place was called Andretti Winery, owned by the former racer Mario Andretti. This place had a smaller and more classy atmosphere to it, which was relaxing for the last winery. We got to taste wine there and wander around a little bit until we had to leave. Then we had a good drive to Vallejo where we boarded a ferry to head back to the city. The ferry ride was about 45 minutes long and was also relaxing.
We ended the day by coming back to the hotel and resting. We went to get some burgers at a place called Pearl's which was a few blocks away from our hotel. It was this cool, little 50's style diner. The burgers were excellent.
You can view all of the photos in my flickr photoset: View Here