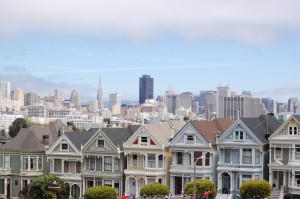 Well, the day finally came and went. Melissa and I spent all day today traveling around town (MUNI Passport is worth it) doing some sightseeing. We already have everything planned out that we wanted to see. So the hardest part of the day was actually just getting up early to start it all.
We flew in Thursday night, so it was quite late by the time we rode the BART to downtown and got to our hotel. Anyway, we woke up and went to see Union Square first since it was only a few blocks away from our hotel. Our next task was to pick up the MUNI 3-day passes that will get us unlimited rides on the cable cars, street cars, and buses. These were certainly worth the money.
So once we had our passes, we went to see Lombard Street (the crooked street). This was pretty neat to see and looked awesome with all of the flowers and trees along it. After walking down this very steep hill, we moved onward towards Coit Tower, which was at the top of yet another hill (there's a pattern here). I thought this was only ok, since it seemed most of the views were blocked by trees. But anyway, we walked down from here towards the Fisherman's Wharf area. We stopped at the large tourist trap known as Pier 39.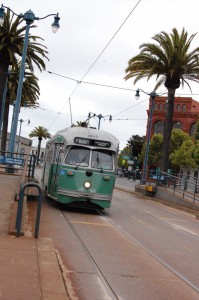 After having lunch at In-N-Out Burger (my first time) we found out that we had just missed one of the tours we wanted to go on, and it would be another 45 minutes until another went out. So we decided to just skip that and continue on with the rest of our agenda. The next thing was to go see the Painted Ladies. The Painted Ladies are a row of brightly painted Victorian style houses next to Alamo Square. Most people will recognize them from the intro of Full House when they are having a picnic in Alamo Square. (Although the close-up shots of their actual house were filmed at 1709 Broderick St.)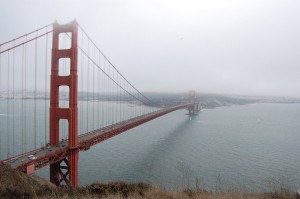 Then, it was time for the main attraction, The Golden Gate Bridge. Of course, being San Francisco, it was somewhat foggy. It still looked amazing though. We took a bus to the south end and found a cab to take us to Battery Spencer. Battery Spencer is an abandoned military post by the north end of the bridge. This is a very common place to take pictures of the bridge. It was worth the cab money to get up there even though it was extremely windy. We took some excellent pictures, and had a nice long walk back across the bridge.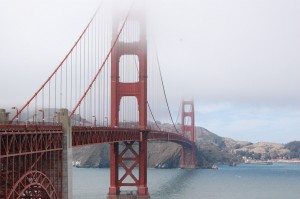 For the most part, that was the end of our day. We had a long bus ride through rush hour to get back to the hotel. Then we went to dinner at nice little Italian restaurant called Fino. The food was excellent even though they seemed to be stretching their wait staff a little thin. We then proceeded to a little comedy club called San Francisco Comedy College. The do a show with some of the students at their comedy school. It was quite entertaining and some of the comedians were pretty good. Overall, an excellent day in San Francisco.
You can view all of the photos in my flickr photoset: View Here